Many of us know him from his notorious, pseudo-futuristic, psychedelic banjo jazztet, Bela Fleck & the Flecktones. Others associate more with his rootsy, bluegrass albums. Well, cast aside all preconceived notions; Bela Fleck is back, this time traveling the continent of Africa with a recording crew and a mean five-o-clock shadow.
The album (and associated documentary film) is called
Throw Down Your Heart
, named after one of the coastal villages he visited along the way in his travels. It is a wonderful project; a melding of unforseen collaborations and experimentation, resulting in some true musical gems. Essentially, Bela went into the project seeking to trace the roots of the banjo, which is an instrument that traces its
origins
to West Africa. The project is a true success, with field recordings and footage that enable us all to share in the experience.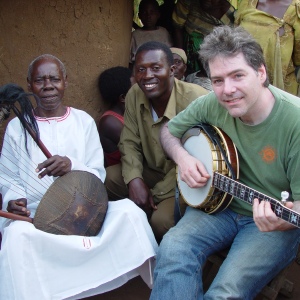 Dr. D recommends the film above all else, as some of the scenes and footage are impossible to appreciate fully through audio alone. Whether it be Bela jamming curbside with a blind Tanzanian finger pianist, or in the kitchen with a dozen or so Gambian women, the film is amazing. Heck, he even trimmed his
mullet
for this one!