Although the
civil war
in Sierra Leone ended six years ago, its legacy lives on in the lives of all affected. Thousands died at the hands of both the
Revolutionary United Front (RUF)
and the Sierra Leone Armed Forces, who were fighting more over power and economic resources (diamonds) than any political ideology. Unfortunately, it was also a war fought more by children than the men behind the motives.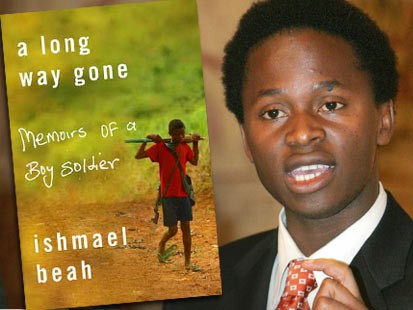 One such child soldier is
Ishmael Beah
, who has not only survived and rehabilitated from his years fighting in the war, but has set out to make it his life work to end the use of child soldiers worldwide. Now living in NYC, Beah reps for
UNICEF
and
Human Rights Watch
, touring the world to share his experience. Additionally, in 2006 he published his story in a wonderful memoir entitled
A Long Way Gone
. It's a powerful read for students of all ages interested in broadening their horizons and keeping their own troubles in perspective.
Dr. D just finished reading this one with his sophomores, who for the most part found it fascinating. Talk about eye-opening! More middle and high school aged students need to be reading stuff like this.
To follow it up, before carrying on to the next unit, I dropped some relevant film on their young minds. VH1's
Bling: A Planet Rock
is a documentary featuring Ishmael Beah, who travels back to Sierra Leone after ten years living in the USA. The catch it that he brings a few guests, including APT Hall-of-Fame emcee
Raekwon
from the
Wu-Tang Clan
. Respect. Additionally in tow is the diamond grill-master himself,
Paul Wall
, and reggaeton icon
Tego Calderon
. Scope the trailer:
Basically, in addition to the story of Ishmael's return, the film chronicles the backstory behind America's obsession with bling; the reality behind our obsession with diamonds and the myth that diamonds represent love and success. In reality, as most of us at APT know, diamonds carry a history, and in some cases that history involves
blood
and
conflict
. The effect that this travel experience has on the artists is profound, and one can only hope that their eye-opening experience can serve as an example to others.
Check out both the book and the film as you look for things to do this spring. And if you live in the Portland area, Ishmael Beah will be speaking from 7-9pm at USM this upcoming
Tuesday, April 14th
. It's free and sure to be informative, a must-see for those concerned with human rights and their fellow man. Bring a friend. Bring your kids. Word. I'll meet you there with 50 teens from Saco.